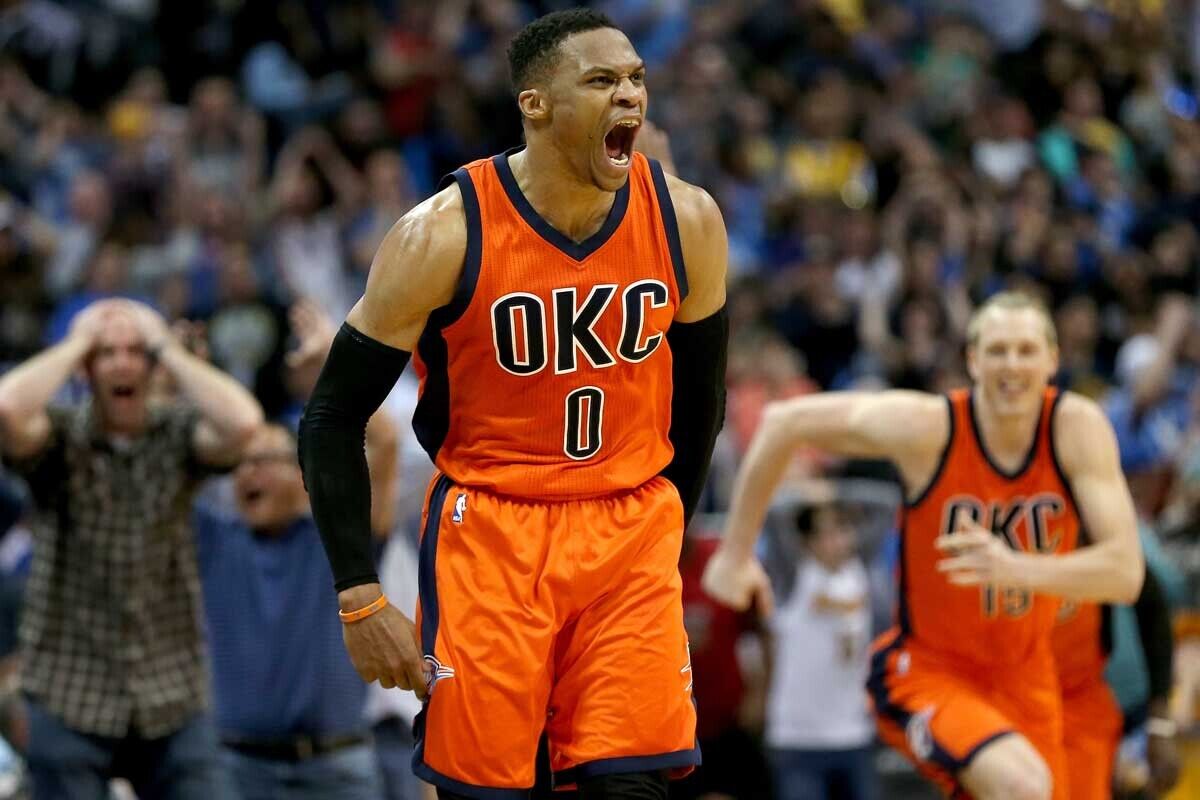 Russell Westbrook se convirtió en el primer jugador en la historia de la NBA en alcanzar la cifra de 42 'triples-dobles' en una misma temporada. En el partido que Oklahoma City Thunder ganó ante Denver Nuggets por 106-105 el base rompió el empate que tenía con Oscar Robertson e impuso una nueva marca.
Una tarde histórica para la liga y el deporte en general. Russell Westbrook con sus 50 puntos, 16 rebotes y 10 asistencias ante los Nuggets marcó un hito en el baloncesto. El base sigue en un nivel superlativo durante la temporada en la que ha llegado a romper un récord impuesto hace 55 años por Robertson en Cincinnati Royals.
Here it is. 42. Watch #hist0ry. #ThePeoplesChamp pic.twitter.com/mHInR9IqDF

— OKC THUNDER (@okcthunder) 9 de abril de 2017
Pero no solo eso fue lo que consiguió el jugador en la victoria del Thunder 106-105. Es el primero en anotar 50 puntos o más durante tres ocasiones en las que consiguió 'triple-doble'. También hizo el triple para la victoria de la franquicia cuando faltaban apenas unos segundos para que sonara la bocina y el quinteto estaba abajo en el marcador por dos puntos.
Who else? Russell Westbrook drills a 3 at the buzzer and Thunder wins!! #MVP #MVP #MVP pic.twitter.com/hPaNKalFiJ

— OKC THUNDER (@okcthunder) 9 de abril de 2017
Parecía que el partido estaba perdido para los de Oklahoma. El juego que estuvo parejo durante los dos primeros periodos cuando iban 52-53 antes del descanso. La diferencia la impuso Nuggets en el tercer cuarto cuando llegaron a tener 10 puntos de ventaja sobre el Thunder, 81-91. En la parte final se notó el aumento en el nivel de juego de Westbrook y sus compañeros. El base consiguió su 'triple-doble' cuando faltaban cuatro minutos de juego e hizo el triple ganador en el instante final del encuentro.
Un duelo que quedará grabado en la mente del jugador y aficionados en general que hemos presenciado el momento histórico del rey del 'triple-doble' en una sola campaña. Aunque para 'RW0' lo más importante son los resultados colectivos, seguramente estaba en busca de este récord que no podía dejar pasar.
La franquicia llegó a la marca de 46-34 en el curso 2016-17 y aún le restan dos juegos para cerrar la regular season y que Russell Westbrook intente aumentar su registro. Con esto da un paso gigante para llevarse el MVP de la temporada.
Calendario basket4us
Clasificación basket4us